If there were many reasons for designers to be dark and gloomy this season, from the ongoing war in Ukraine to an economic recession affecting the world, aggressive silhouettes and dystopian gestures were mostly absent from the Paris calendar, and Belgian designers focused on timeless clothes with a spiritual appeal, handcrafted and dreamy enough to make us forget about our worries and the current context.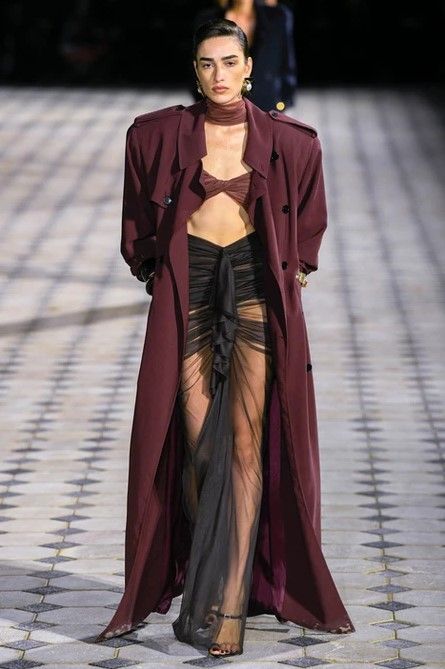 Brussels-born designer Anthony Vaccarello really found his stride at Saint Laurent, and his latest show was powerful, sexy and confident. If his clingy dresses and strong shouldered leather coats referenced the 1980s, and specifically the work of Tunisian couturier Azzedine Alaïa, his focus on monochrome silhouettes and pared-down styling was very effective and felt very YSL, sticking to the sharp lines and sensuality the French designer was famous for. The subtle color palette, which brought Northern Africa and desert landscapes to mind, felt stunning and contemporary, too, adding a sense of romance and mystery to beautifully-made pieces.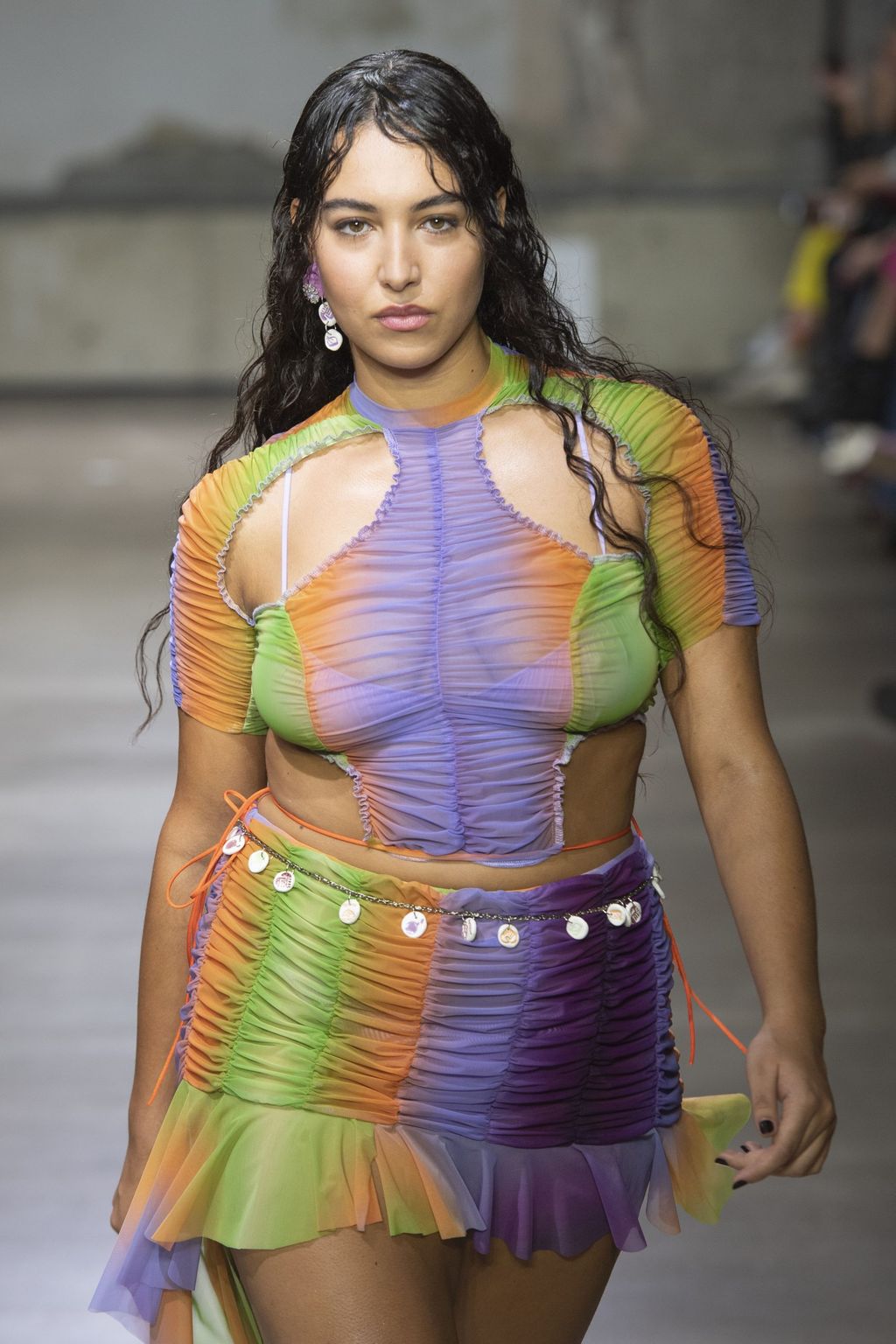 Eroticism was also key at Ester Manas, where voluptuous lines and female curves were once again celebrated, challenging the industry's focus on unrealistically slender bodies. Draping, ruffles and ruching were used to striking effect, creating a silhouette that was both romantic and contemporary. Sheer textures and interesting cutouts encouraged the eye to look at the female form in a new and relevant way, underlining the key notion that body confidence and sex appeal have nothing to do with body size, despite what Western society keeps telling us.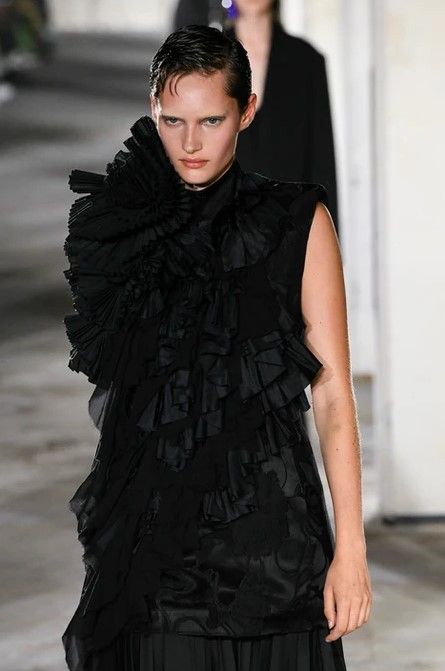 It was delightful to see Belgian maestro Dries Van Noten return to the runway with his womenswear after a long, two-year absence. There's something about Van Noten's style and eclectic eye, which cannot be replicated, and he charmed his audience once again with clothes that managed to be poetic and realistic at the same time. Starting with sleek all black outfits, the collection slowly moved onto pastel separates with a utility vibe, before reaching a final flower crescendo, with gorgeous clashing prints reminiscent of the 1950s. Van Noten also showed some mannish jackets, which looked fresh and nonchalantly elegant, combined with pleated skirts or slim pants. The wonderful thing about Dries Van Noten is that his clothes have always been inclusive, dressing women from different backgrounds and generations, who have become fans of his eclectic style and personal touch.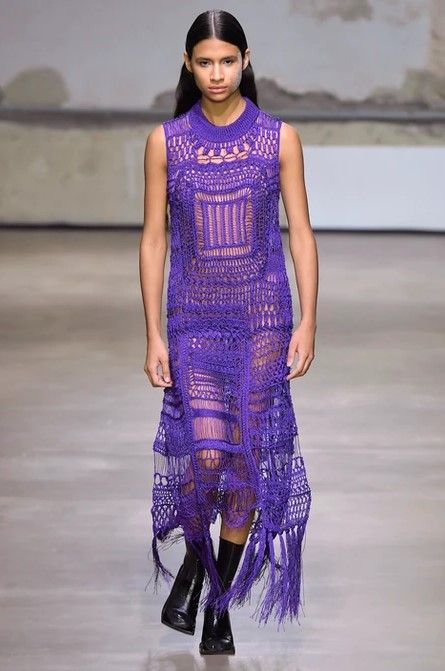 With a recent store opening in Berlin and ongoing business expansion, Christian Wijnants also has a growing clientele, which keeps coming back for his uncomplicated and delicate clothes, which never shout, but whisper instead. This season, Wijnants wanted effortless and softer shapes, as well as calming colors and generous cuts, which by enveloping the body gave a spiritual feel to most of his outfits. Crochet separates -a huge trend in Paris- were paired with soft denim pieces or tailored trousers, while knit dresses became statement pieces, embellished with contrasting fringing or abstract patterns. Wijnants' unique draping, which echoed timeless Indian saris, was effortless and uncontrived, proving that the designer has clearly honed his signatures over the years. Wijnants definitely deserves more attention than what he currently gets.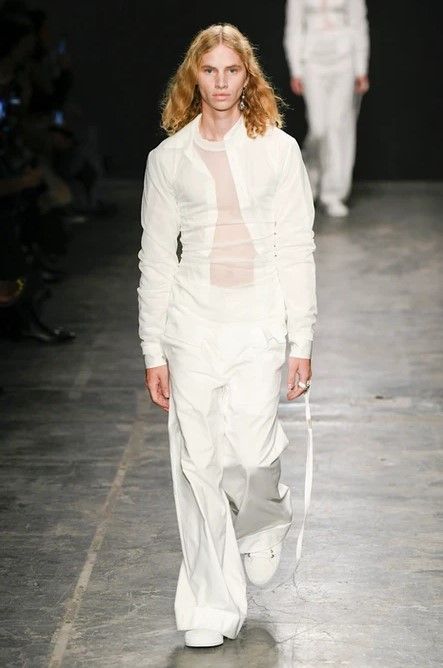 At Ann Demeulemeester, sensual leather pieces and elegant tailoring were some of the standouts in a refined and confident collection. Rumor has it that the studio is currently led by a former Margiela designer, which explained some of the sheer pieces and layering that defined some of the strongest silhouettes. The poetic nonchalance of Ann Demeulemeester still attracts customers worldwide and the show venue was completely packed, including American singer and songwriter Cher, who was attending the show and wearing the brand head-to-toe. Ann Demeulemeester greeted her warmly and seemed delighted to be there, adding fuel to the speculation that she may be once again involved with the brand and giving her opinion on the collections.
When it comes to soulful minimalism, Jean Paul Knott is a true style reference and his last collection had plenty to offer. From reworked capes and draped dresses to hand-painted separates and generous volumes, the Brussels-based designer understands the needs of his clients, whose demanding lifestyles require unfussy and elegant clothes. If Knott's sense of geometry makes his clothes effective and easy to wear, he nevertheless insists on using the best materials and impeccable finishings, which add value to his pieces. In a complicated and forever changing world, minimalism has become even more desirable, bringing some welcome pragmatism -and style relief- into women's wardrobes.