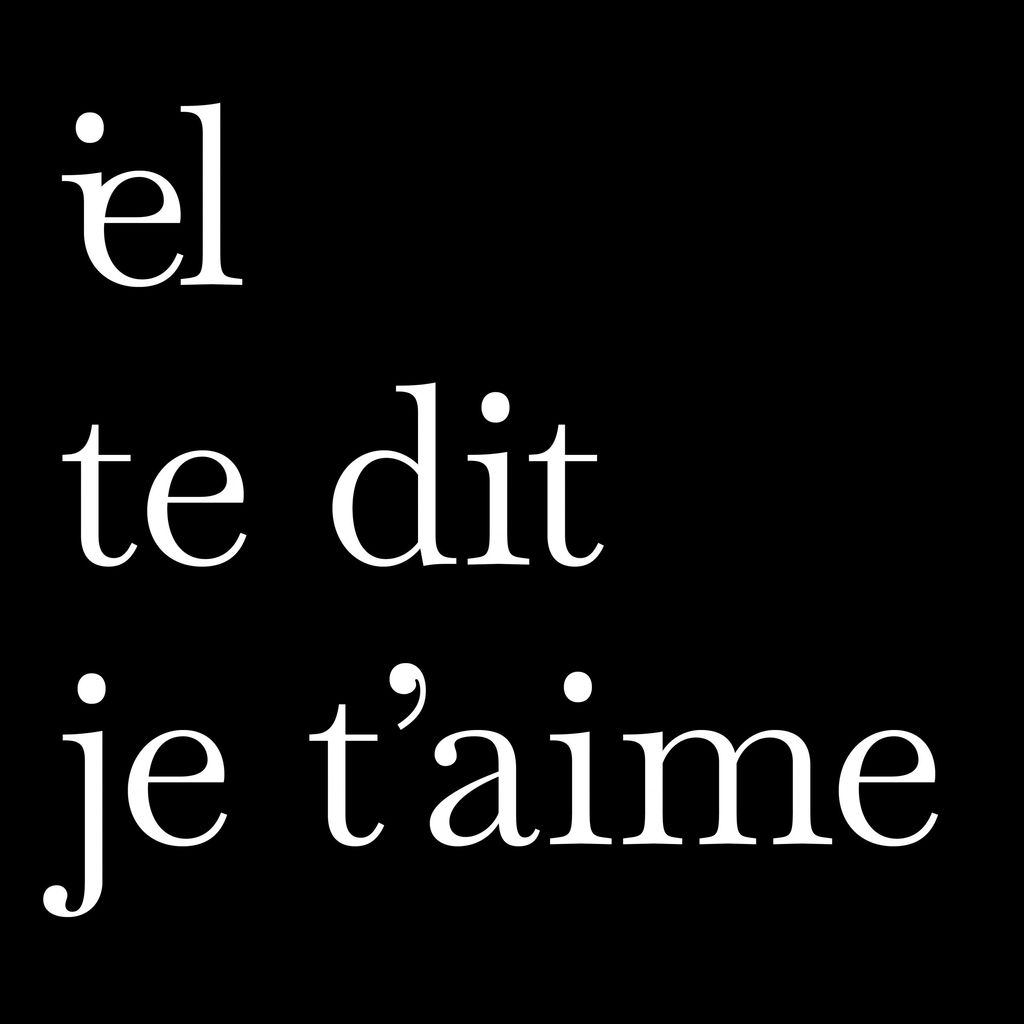 Caroline Dath is the founder of Kidnap Your Designer. This graphic-design agency is renowned in Belgium and internationally and is now celebrating its 15th anniversary. She is also a teacher at ERG-École de Recherche Graphique (The School of Graphic Research) in Brussels and has recently launched an ambitious project with a universal scope: non-gendered typography. New characters and shapes that aim to transcend inclusive writing and its usage.
How would you describe your studio's work, which includes graphic, editorial and web design and gives pride of place to experimentation?
Kidnap Your Designer focuses on the concept of graphics and typography. We also specialise in signs for exhibitions (informative texts on various kinds of materials), with an intentional use of atypical materials. Each project initiates research. The goal is to propose solutions to problems faced by our patrons, as part of a dialogue process. Our attraction to experimentation is most often the result of budgetary restrictions, for example, to save money by producing less, but better.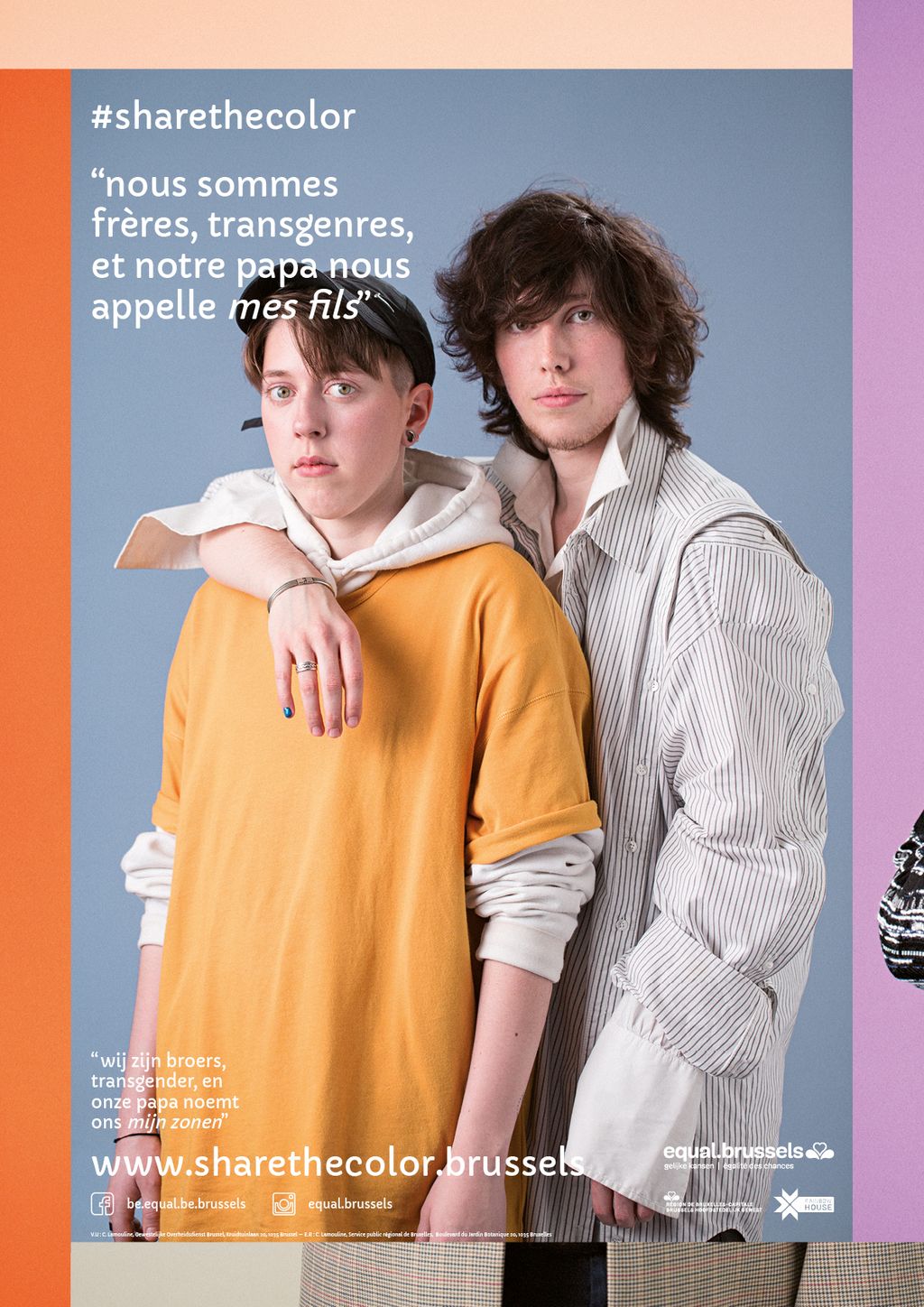 Who works with you and what do you learn from your collaborators?
There are four of us on a permanent basis, including Damien Safie and Esther Poch, plus two regular external workers, depending on orders for digital or motion design. We handle all the creative work in-house. The multidisciplinary aspect drives us. We have also enjoyed numerous collaborations with photographers and directors, such as LaetitiaBica and Martin Landmeters for the #sharethecolor publicity campaign, which promotes LGBTQI+ individuals.
How do you view the evolution of your profession?
We hardly ever print single-user flyers anymore. Everything happens online and via social media for ephemeral events. Now, printing is only for beautiful things and tends to be considered prestigious. As a result, investment in paper is increasingly important. The evolution of graphic design has remained somewhat static, even though more students are taking an interest in open source.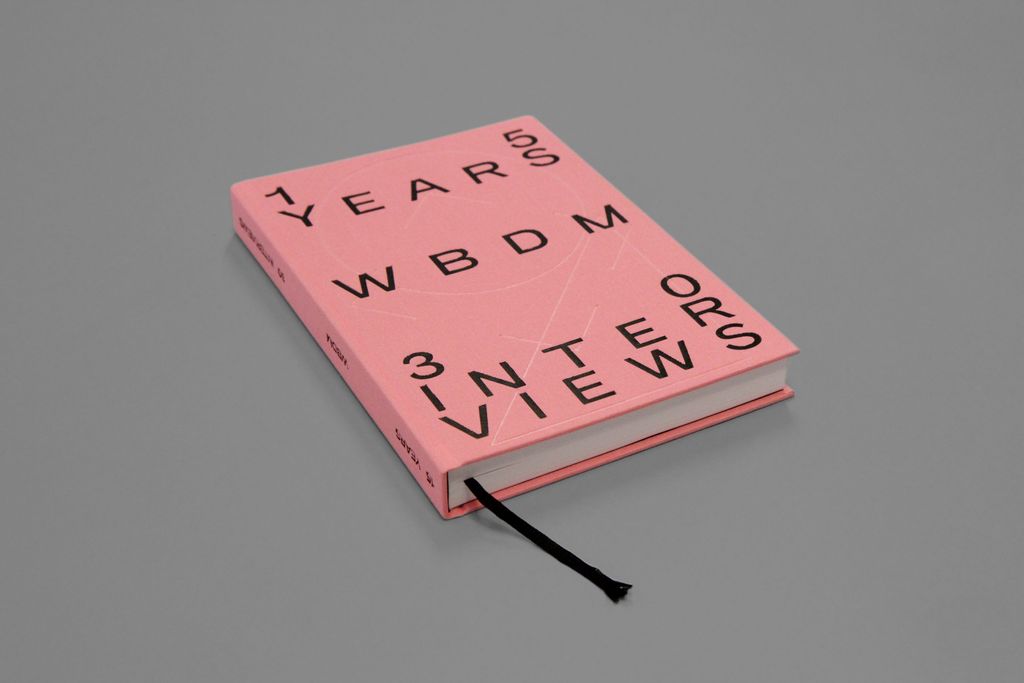 Tell us about the book you designed for Wallonie-Bruxelles Design Mode [WBDM].
It is a hard cover collection of 30 interviews, which were published on wbdm website. The illustrator Lison Ferné drew a portrait for each one. These illustrations are accompanied by typographic games, with keywords that represent the worlds of the talents presented: entrepreneurs, designers, creatives and fashion designers. The book is covered with a pink colour and the title has been heat pressed. It's like a 'little sweet treat'!
You are a member of Bye Bye Binary. What is that?
This group originated from a workshop in Brussels, between the ERG and the L'École nationale supérieure des arts visuels de La Cambre. It includes typography teachers, but also visual artists, activists, graphic designers, performers and theorists (Loraine Furter, Laure Giletti, Louis Garrido, Pierre Huyghebaert, Ludi Loiseau, Tiphaine Kazi-Tani, Roxanne Maillet, H. Alix Mourrier).
You have defined brand-new words and characters within this Franco-Belgian collective, under your non-binary name Camille Circlude, in order to reinvent post-binary writing. Why?
Our group's work is a response to current debates about the mid-way point, which involves adding a mid-way point to the root of a word and its masculine suffix, followed by the feminine suffix (an example in French would be un·e auteur·rice). Many typographers from different countries wanted to move beyond the restrictive format that this mid-way point imposes, since it literally separates the different categories of people rather than acting as a symbiotic form.  As a result, we have created character sets that make it possible to create ligatures between the letters, so that they are relevant to everyone. We have also redesigned the use of the asterisk, in keeping with the philosophy of queer sociologist Sam Bourcier, as a whole new grammar with neutral suffixes (French example: auteur, autrice, auteul). Finally, we have produced a grammar-conversion table called Acadam, in parallel with Alpheratz's Inclusive French Grammar.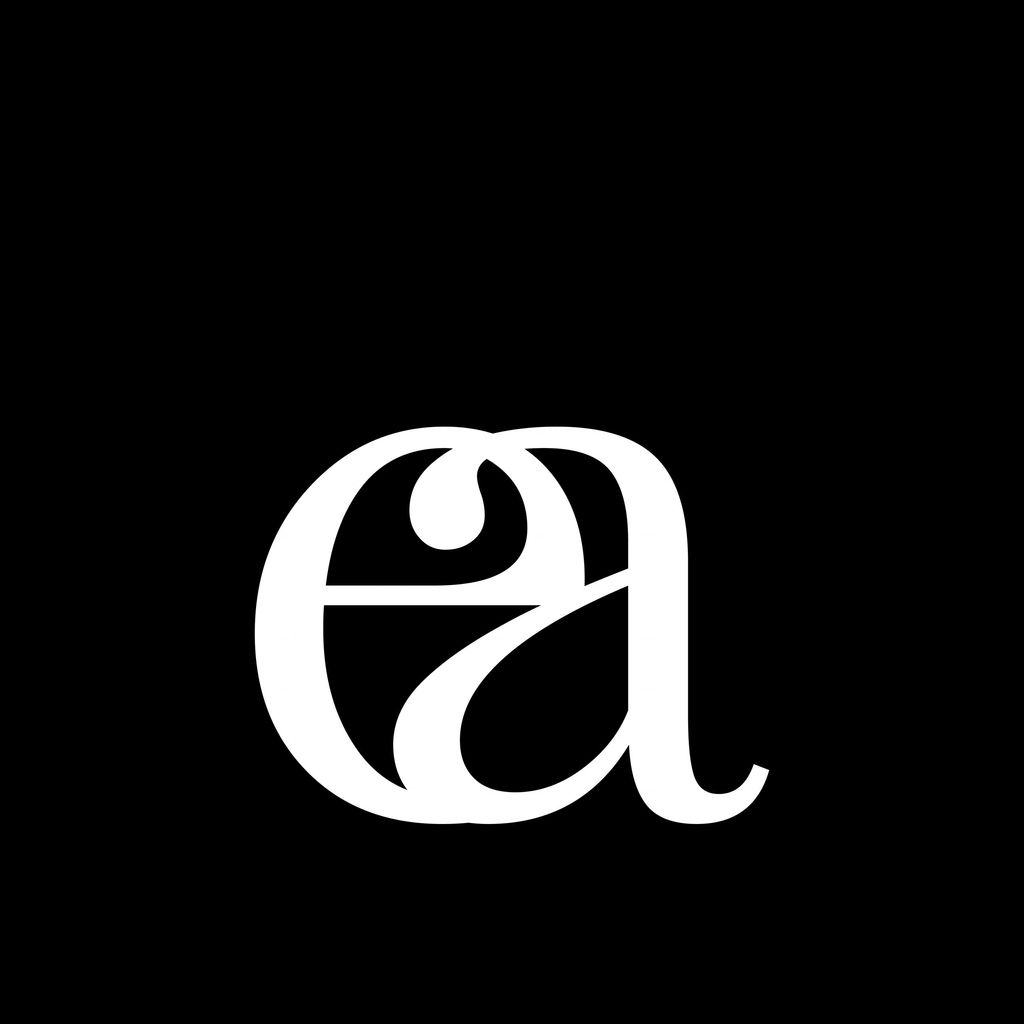 What is the goal?
We are not trying to impose new rules, but to create possibilities for the next 50 years [laughs]. Since language develops naturally, usage will dictate the way forward. For now, this field of research is open to graphic-design professionals and it will soon be available to the general public. To this end, we will open a type foundry where these resources (typographies, grammars) will be available. This requires significant collaboration between all the members of Bye Bye Binary. In the end, its usage will escape from us, but that has to be done, for the sake of future generations.
What social issues and solutions does this writing raise and offer?
The counter-argument that is often made is about accessibility for people with reading difficulties; in particular, the ability to read if you have dyslexia or dyspraxia. Indeed, this demographic is rarely considered when training typographers and creating characters must take different levels of reading ability into account. However, this criticism is sometimes picked up by critics of inclusive language. Our solutions are open to improvement because they are intended to make relations between everyone more fluid and to provide visibility for those who do not identify with the dual-categorisation or binary nature of gender, whether genderfluids or genderfuckers.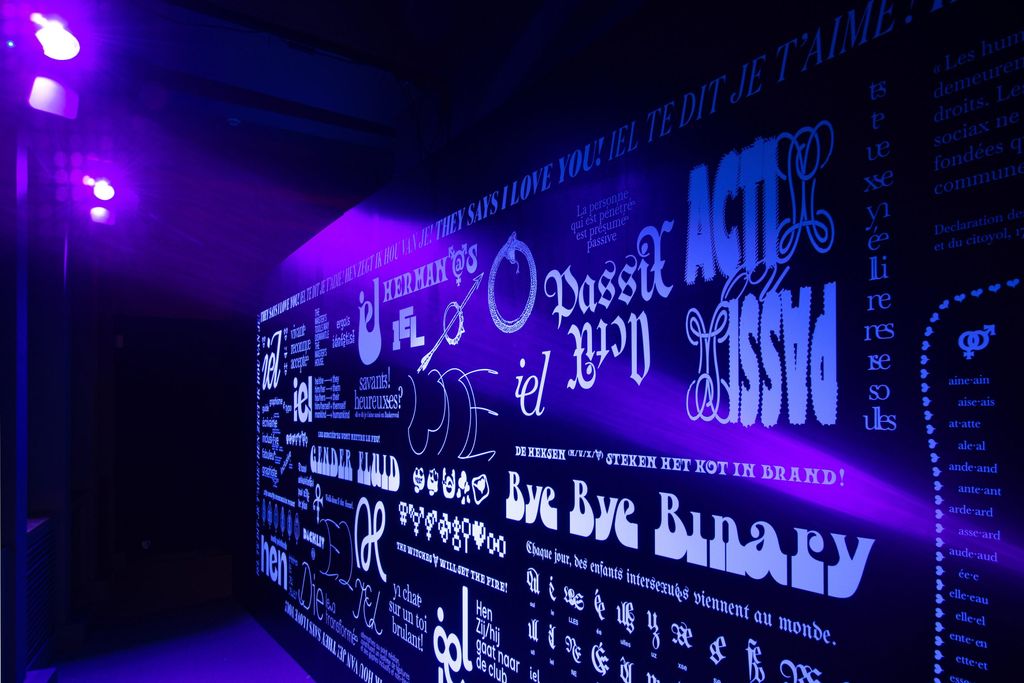 What impact do they have on your work?
The appeal of these typographies and words is primarily connected to associations right now. However, we are trying to integrate these characters and terms into as many projects as possible. This was the case for the Masculinities exhibition at Musée Mode & Dentelle. For its part, the beautiful WBDM book includes the Baskervvol range of non-binary characters (a remake of Baskervville from the Atelier National de Recherche Typographique de Nancy in France by Bye Bye Binary).
Graphic designers like you are sort of agents, in a way, who shape the collective unconscious…
Indeed, we do have key wiggle room as graphic designers and we work with institutions who are evolving. For example, we are going to run a workshop at the National Ballet of Marseille (the La Horde collective is handling the artistic direction). In the end, the institution will take the set of inclusive characters that we are going to create, so that it can use them in its communication tools. In France, the Blanquer circular recently banned the use of inclusive writing, although the feminisation of terms is encouraged.
Is the situation better in Belgium?
There is less of a backlash to the subject of identity than in France, where the Académie Française holds significant weight. Belgium is a kind of haven, where it is okay to 'work on francophony'. Open-mindedness is also part of the country's roots. Furthermore, the ability to have major clients – and therefore influence – here is strategic.