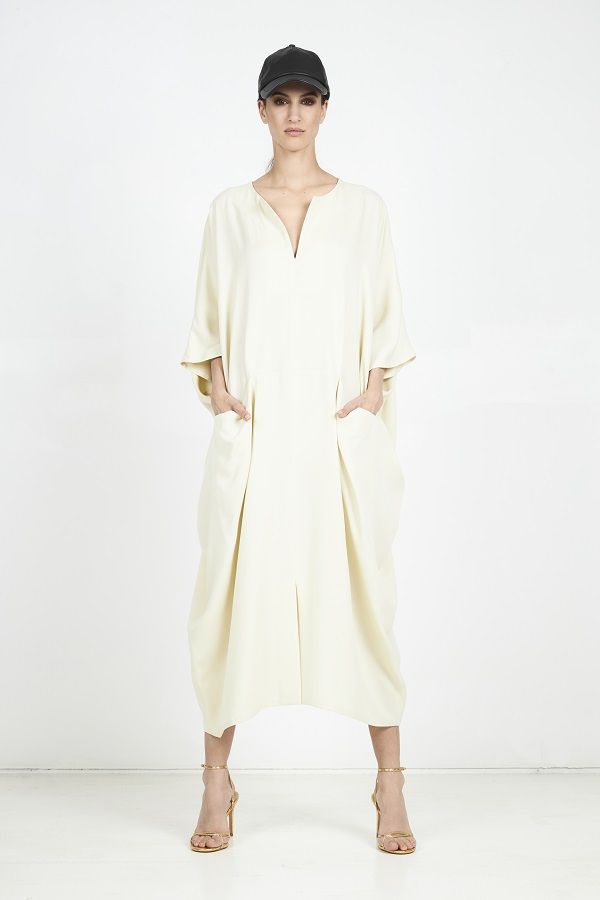 If there is one single thing that seems to unite Belgian designers across the board, it is a sense of humility, coupled with an understanding of reality.
That may seem contradictory when dealing with creative and fanciful fields such as fashion, but Belgians can make the most abstract idea relatable and user-friendly somehow, which surely accounts for their success.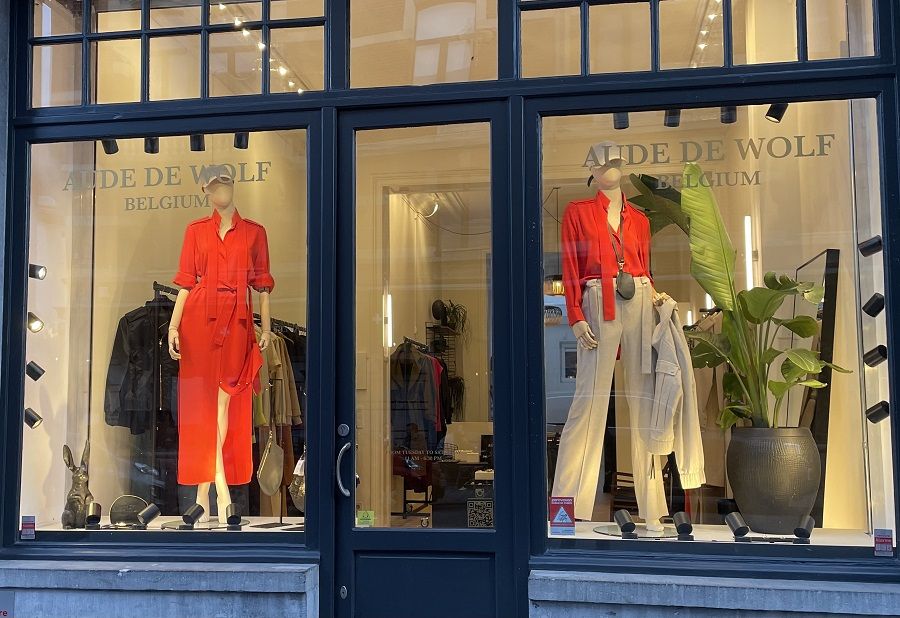 Pretty much self-taught – and still independent – Aude De Wolf recently opened her new store in Brussels, which also happens to be her atelier space. Working with her partner Lionel Vandenbemden, she has carved a style of her own, selling her collections in-store, as well as upcoming designers and artists, such as Espèces or Marie-Laurence Stévigny. Known for her rigorous lines and high-quality fabrics, her clothes are made locally in limited series, which gives them a sense of exclusivity.
We caught up with the Brussels-based designer to discuss the current fashion landscape, where she finds inspiration for her clothes, and why nothing can ultimately replace the intimate experience of physical retail.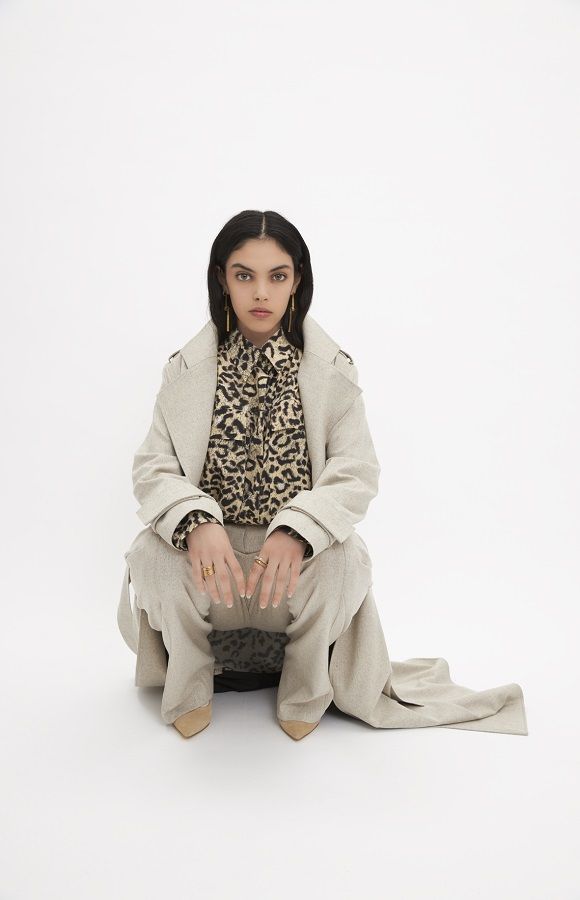 How did you learn fashion?
I've been stitching and sewing since my teenage years and remember girlfriends asking me to make them skirts and blouses. I did study at ERG and enrolled at Bischoff' afterwards. Then I decided to open a store with a friend, which was located on rue des Chartreux at the time.
When was that?
That was 2004.
Were you selling your own collections already?
Yes. We had a space in the back, and made mostly dresses. A lot of things were made-to-measure back then.
If we compare those times to today, what were the key differences for designers?
I feel that there was perhaps more support for new and upcoming talents. I remember we won the ING prize back then, and being in the Dansaert neighborhood was much more festive than what it is now. There was no social media either, which meant that people got together more often. I remember some epic vernissage events going on all night long…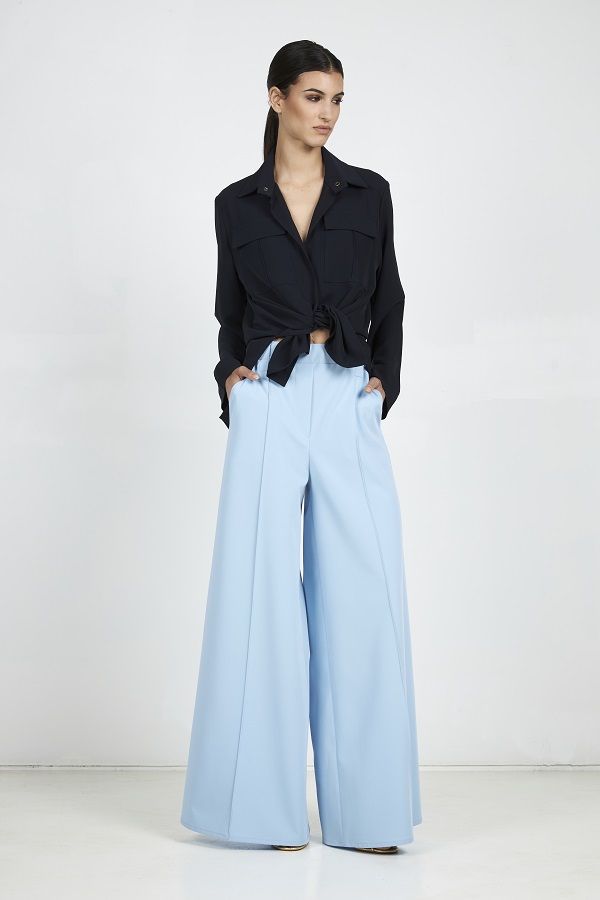 I guess it was a lot more alternative than what it is today, too.
Sure. There is less of a party vibe in Brussels today, but people buying fashion have also changed. Our clients are quite knowledgeable now and they want to know how our pieces were produced and where our fabrics come from. 15 years ago, nobody asked me those questions.
How does your production work?
Everything I do is limited and I work with an agent in Italy that supplies high-end fabrics for me to work with. She gets them from the best brands, which allows me to keep the quality high.
Is your creative process determined by your fabrics then?
Lionel and I design everything together, and our concept is to focus on timeless pieces, which we develop and refine over time. We may add some new styles each season, but the bulk of the collection is that permanent line, which changes depending on the materials we have.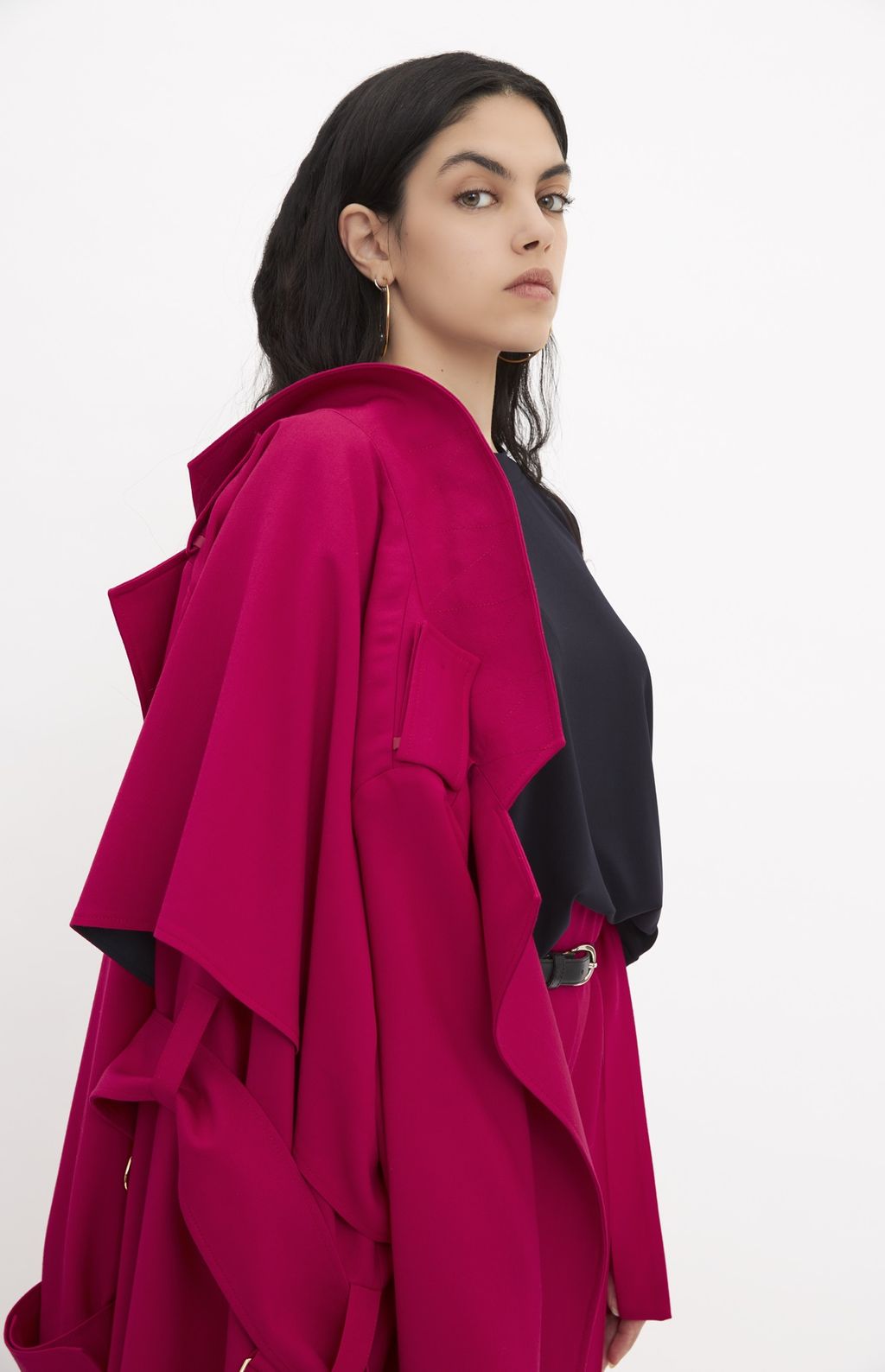 Do you manage to minimize waste?
Yes, we do. Sometimes I will even use fabrics from the previous season in order to finish the rolls and our clients find that great. They understand our approach and care more about quality than constant novelty.
You seem fascinated with uniforms. What are your references in fashion?
I actually don't look at fashion that much, but it's true that we love twisting the idea of the uniform by adding sensual details to classic cuts. A long military dress will feature side slits for instance, making it seductive and feminine. I love the work of Christophe Lemaire and Joseph, as well as Ann Demeulemeester.
How do you envisage the fashion landscape today?
Fast fashion is deplorable and really alienates consumers when it comes to concepts of value and longevity. We're lucky to have a clientele that is very loyal and keeps buying from us, year after year. Even though my customers are all quite different, they tend to travel often and like clothes that are practical and easy to look after.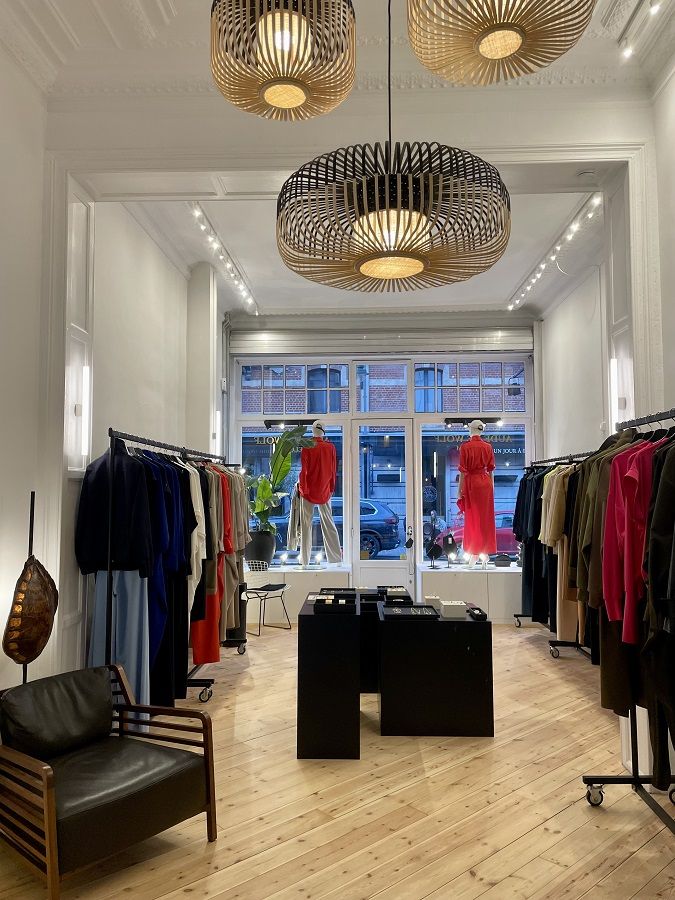 Opening-up a store today seems quite daring given the context we are in. What pushed you to do this?
First of all, we could never manage an online store, because our production series are limited by nature. Then, the great thing about having your own atelier in the same space as your store is that you're always busy and working on new pieces.
What about the personal aspect of running a store? Do you enjoy it?
Definitely. Running a store is about fostering close relationships with your clients. Most of them have become my friends over the years. I love the fact that women come here with their own clothes, asking me for advice and expressing precisely what they want. Nothing can replace the intimate experience of such retail environments.
Does it feel like an achievement to you?
I'm not sure actually. Of course, it's very rewarding to have your own store, but there's constant pressure to make it work. We've only been open for a few weeks, and everything's a risk obviously, so this sense of doubt is something that stays with you. Time will tell if we made the right decision.