Going back to a partly physical format with 37 scheduled live shows, this last edition of Paris Fashion Week should have felt like business as usual, but a strange atmosphere could be felt in the city, which was also quieter than usual. Still, Belgian designers managed to innovate and surprise buyers and press, creating some memorable collections.
If the pandemic undeniably affected larger luxury groups, as well as more independent brands, a semblance of normality defined the last edition of Paris Fashion Week, which took place between the 27th of September and the 5th of October. Designers seemed to be torn between a longing for safe nostalgia and the urge to celebrate raw sensuality, following months of lockdown and tedious restrictions. After 9 days in Paris, the 1960s, 1970s, 1980s, 1990s -and even the noughties- had all been resurrected, while hemlines kept getting shorter.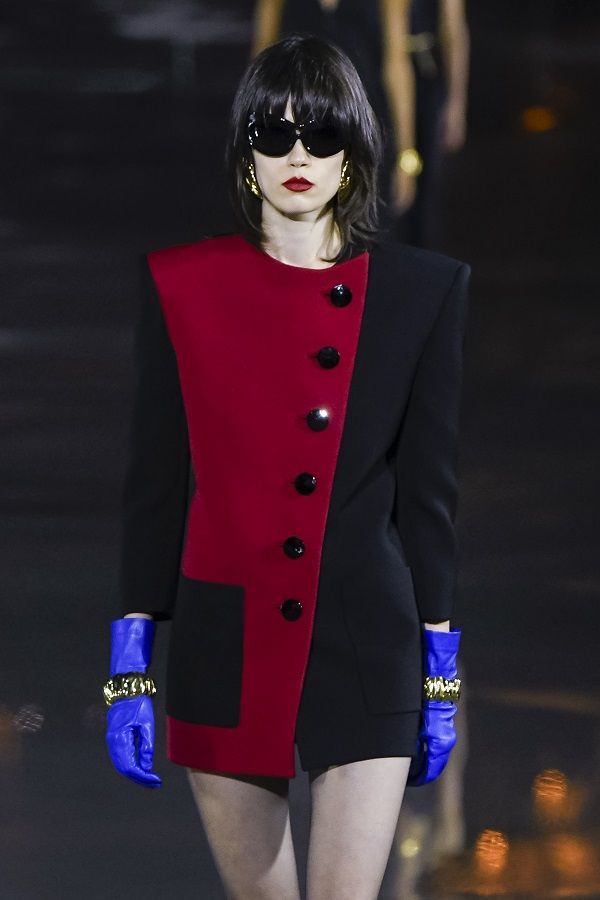 Where did that leave Belgian designers and brands? Interestingly enough, this was a pretty good season for them, whether they led bigger houses or presented their own work. Brussels-born Anthony Vaccarello delivered a powerful Saint Laurent show under the Parisian rain, conjuring up memories of iconic designer Paloma Picasso, whose signature style was instantly recognizable. Looking at Paloma's wardrobe in the 1970s and the 1980s, Vaccarello created an interesting conversation between masculine and feminine, using tailored lines to conceal -and underline- the female form at once. Vaccarello has been commercially successful since arriving at the prestigious House in 2016 and he hardly talks to the press, proving once again that humility is indeed a Belgian trait. Still, the designer loves powerful women who are not afraid of their sexuality and his collections for Saint Laurent exude confidence and strength.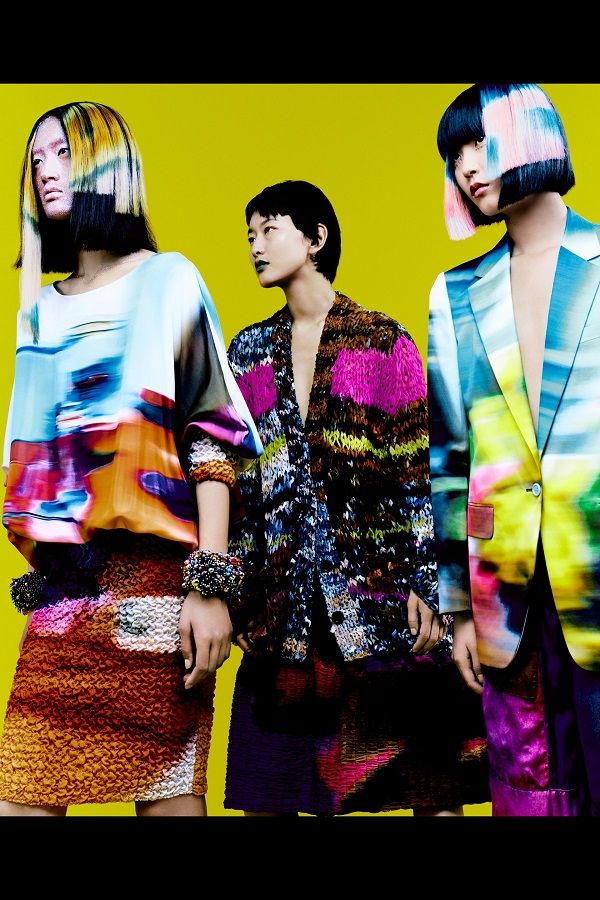 Dries Van Noten, who opted for a video presentation as opposed to the traditional runway format, was also in good form, coming up with a cheerful and dynamic collection. The Belgian designer had music festivals in mind, as well as the joys of dressing-up again. He pushed his famously eclectic taste to new extremes, emphasizing the mix-and-match vibe of the collection with combinations of jacquards, silks and sequins, as well as fluffy textures. Tactile was in fact an important message for him this season, with the idea of gatherings and crowds made possible once again. Out of all the Belgians showing in Paris, he is by far the most exuberant, but Van Noten never loses his sense of poise and elegance.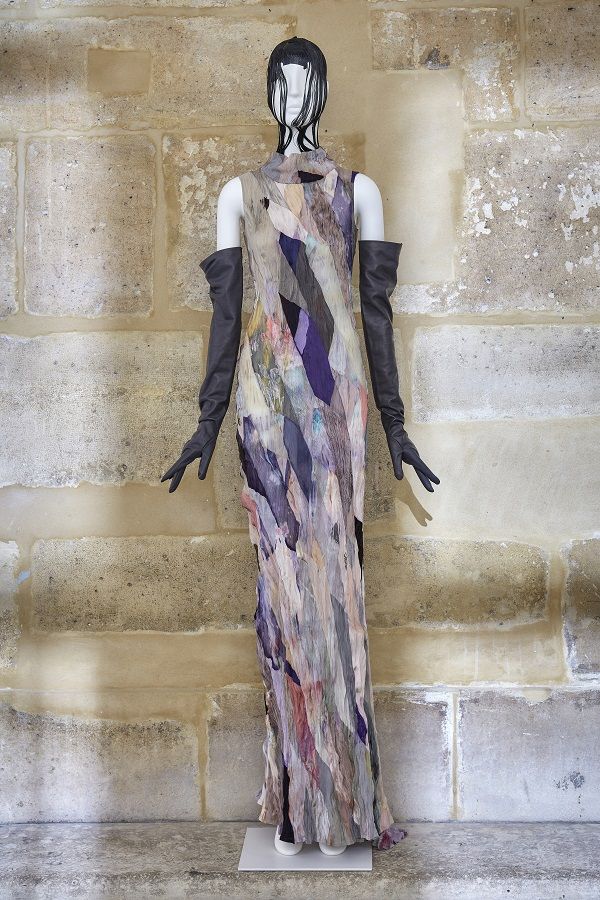 Olivier Theyskens also eschewed the usual runway exercise to focus on something more intimate and private. Inviting selected guests and press to the Palais Galliera, the Brussels-born Paris-based designer paired sustainability with extreme refinement, reworking his signature silhouettes to striking effect. The collection took an entire year to make and -as Theyskens skipped the Fall Winter 21 collections last February- it felt even more special to look at. Using swatches of fabrics he recovered from various mills, Theyskens explored the countless possibilities of patchwork, which he cut on the bias to make stunning dresses and lightweight separates.
Presented on stylized mannequins, the clothes looked slim and lean -recalling the minimalist and tubular shapes of Mariano Fortuny- but the bias brought unexpected stretch to those pieces, making them work for a variety of sizes and body types. It was enchanting to see Theyskens do something entirely by hand, going back to the idea of the Haute Couture studio where experimentation and creativity go hand in hand. Precisely because of the labor intensive nature of those pieces, they won't be sold to e-shops or larger department stores, but made to order for a specific clientele looking for unique garments. It seems that Theyskens found a clever way to combine a sustainable approach with high-end aesthetics.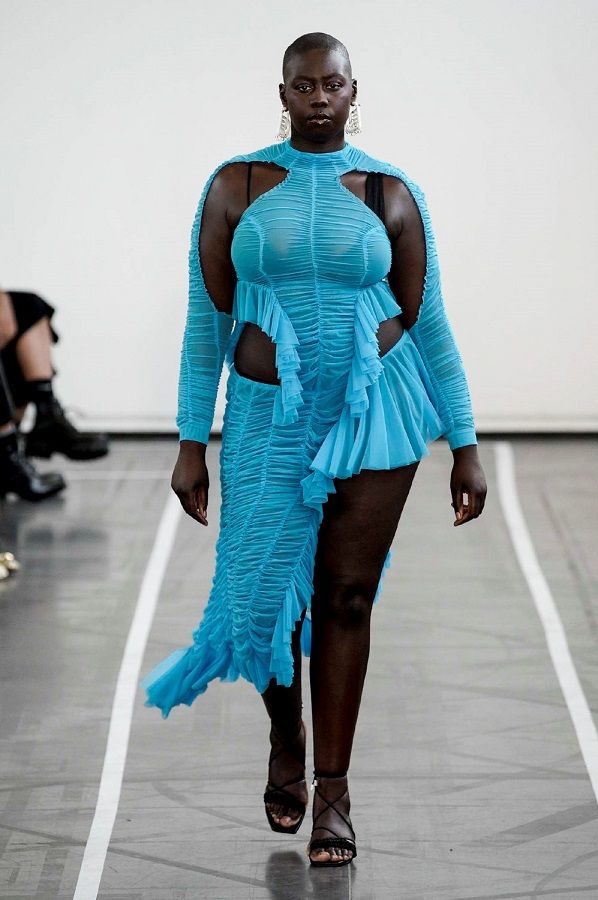 Challenging industry standards while advocating body positivity, Brussels-based Ester Manas presented a convincing show, where she got to underline the inclusive and sustainable nature of her clothes. Sensual cutouts and open backs could be seen on the runway, as well as ruched tops and skirts that were flattering on the body. Manas also tapped into the sheer trend, which epitomizes sensual dressing this Spring. The designer's mantra is 'Dress Different' and if it's true that fashion has gone through significant changes over the past 5 years, triggered by social media and a willingness to democratize the industry, the battle to make sure that more womanly shapes and body types can be seen in fashion is still ongoing. It will be interesting to see how Manas develops in the future and if her aesthetics have an influence on fashion as a whole.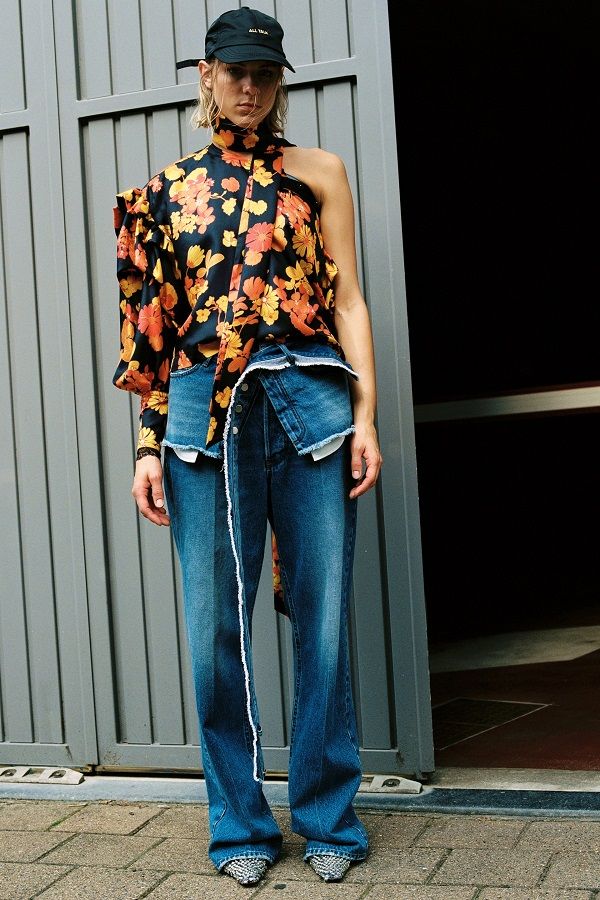 A rising Belgian star, womenswear designer Meryll Rogge is also making a mark on the Paris calendar. Her last collection managed to reference 1990s denim and sportswear, as well as turn of the century workwear, which she did in upbeat and playful shades of yellow, orange, green or red. What is interesting about Rogge is that she pairs typical Belgian deconstruction -a technique mastered by beloved designer turned artist Martin Margiela- with a girly sensibility defined by fun and frivolity. Fashion allows you to change, depending on your mood and circumstances, something that Rogge truly understands.
Being completely independent and running a fashion line by herself, with only freelancers helping and no one on the payroll yet, might explain why workwear was on her mind this season, from fisherman coats and quilted jackets to Carharrt inspired pants with a generous volume and those rather useful deep pockets on the front. And what's the other thing Belgian designers are besides being humble? You guessed it, they tend to be the hard-working type.