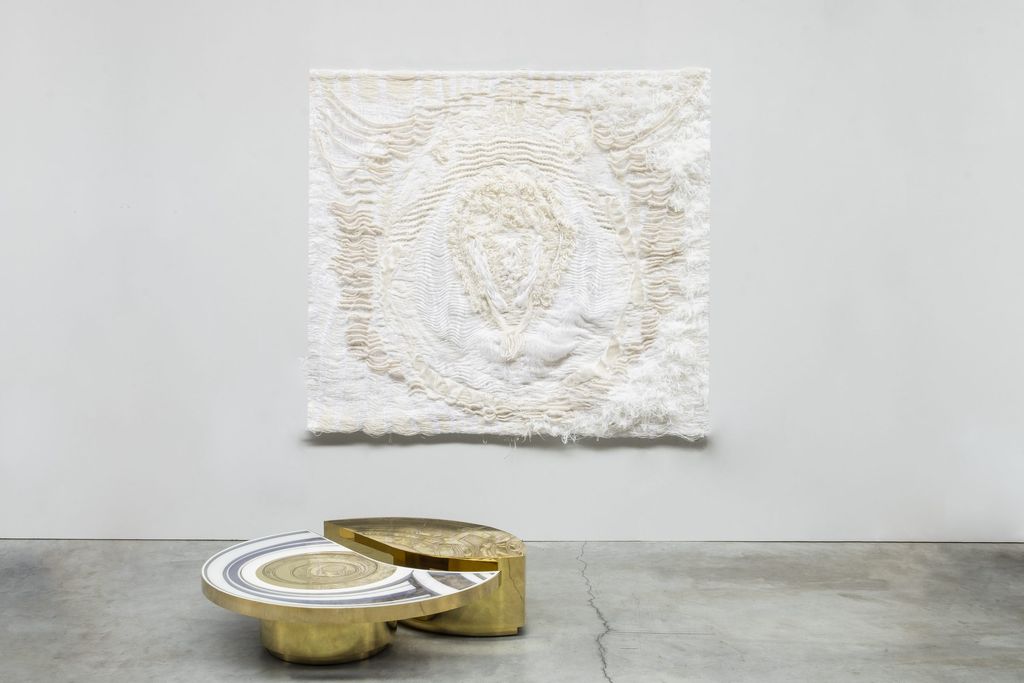 Graduates of La Cambre, Justine de Moriamé and Erika Schillebeeckx, the founders of Studio Krjst, turned their backs on fashion to focus on research into textiles. While weaving remains a central part of their identity, the two artists are now exploring other avenues in the world of design.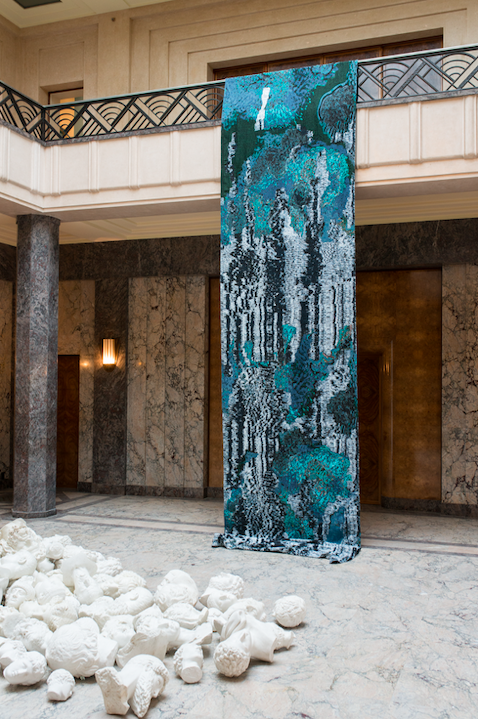 You launched your fashion brand straight after you graduated from La Cambre. You then decided to follow another path very shortly after. Given the major shifts that have occurred in the industry in recent years, do you think you made the right decision?
Since the launch of Krjst in 2012, we have prioritised an approach based on plastic research. However, very quickly, we realised that our desire to further our research and explore other avenues besides ready-to-wear were not compatible with the mile-a-minute pace of the fashion industry. That said, we have no regrets. Not in terms of our studies and not in terms of launching this brand. Those experiences allowed us to create our identity, but also to establish the foundations we needed to push past our limits.
You could have stopped everything, but, instead, you chose to take a different path.
We were lucky to attract major brands via social media, for whom we created various products. That is one way to ensure the future of the studio and to continue our graphic and textile research. Research is the foundation of our work. While the dynamic in our partnership has remained the same, our practices have become more refined over time by necessity. Our initial work focused on singular research. Today, each of our weaves stems from various preparatory techniques: drawings, paintings, 3D, etc.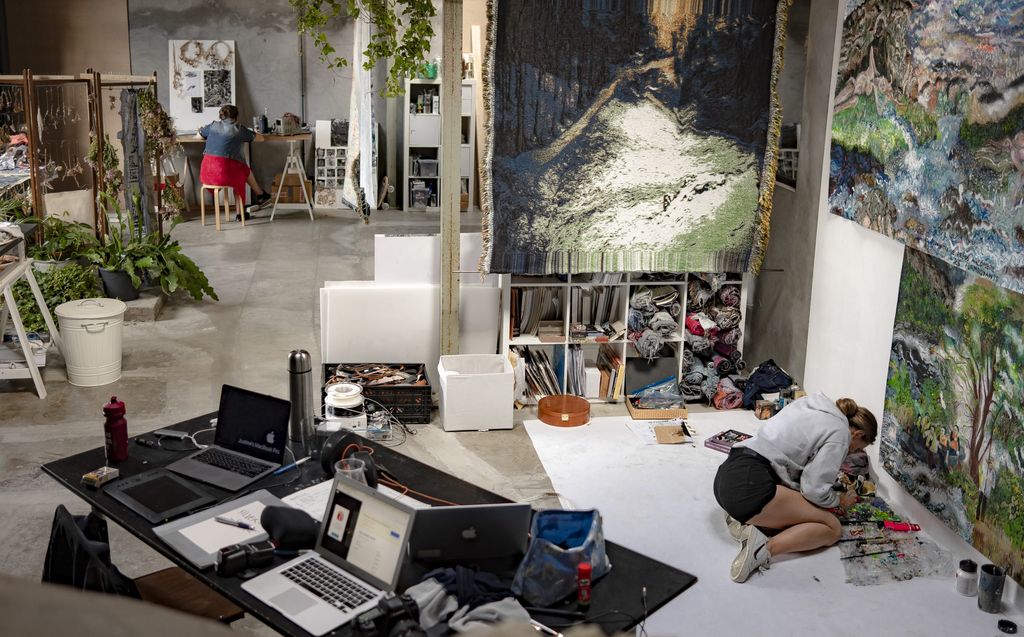 Would you say that your work has become more complex?
The complexity of our current weaves is linked to our desire to form a more engaged dialogue with the public. Our work has always been a kind of X-ray of our feelings, but, over time, it has become less prudish. They reflect the questions we often ask. The creation of each weave resembles a meditative moment that we want to share with people. In terms of our technique, it blends embroidery, unweaving and even tufting, in order to create a unique piece.
You joined Zaventem Ateliers (a former paper mill that has been converted into a work space for the young generation of creators) at the request of the designer Lionel Jadot. Has your participation in this creative hub helped boost your practice?
We were attracted by Lionel's desire to bring artists, artisans and designers together in a single space. Sharing expertise is the main added value of this project, in particular because this space has managed to function without any semblance of competition. We maintain complete freedom of thought and action, while benefiting from the strength and dynamism of a collective whole.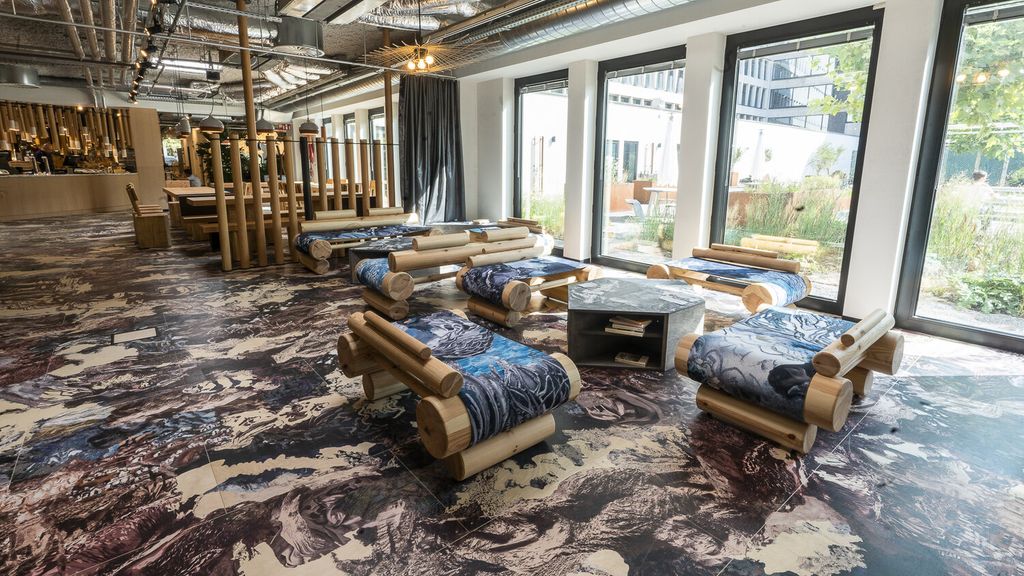 In recent years, you have launched various collaborations with foreign galleries, but your main news is Belgian, since you have just completed a major project with the Silversquare co-working space on Avenue Louise.
When the directors of Silversquare offered us the chance to completely design those 7,000 m2, we were delighted and terrified. We worked on this project, almost day and night, for a year. This exciting task not only allowed us to establish ourselves as a partnership, but also to realise the dream that we had at the beginning of our career – to create a Krjst house where we would have designed everything from top to bottom – is now within reach. Immediately after this project, we set about creating an office, as well as wallpaper and rugs. These new outlooks allow us to continue our practices – and even expand them – but also to initiate a new dialogue with the public, away from the dynamic of galleries and international design fairs. This time, this is about forging closer bonds with people, based on day-to-day objects. We could consider this to be a more direct, almost demystified form of creativity, but it is still inspiring and faithful to our values.