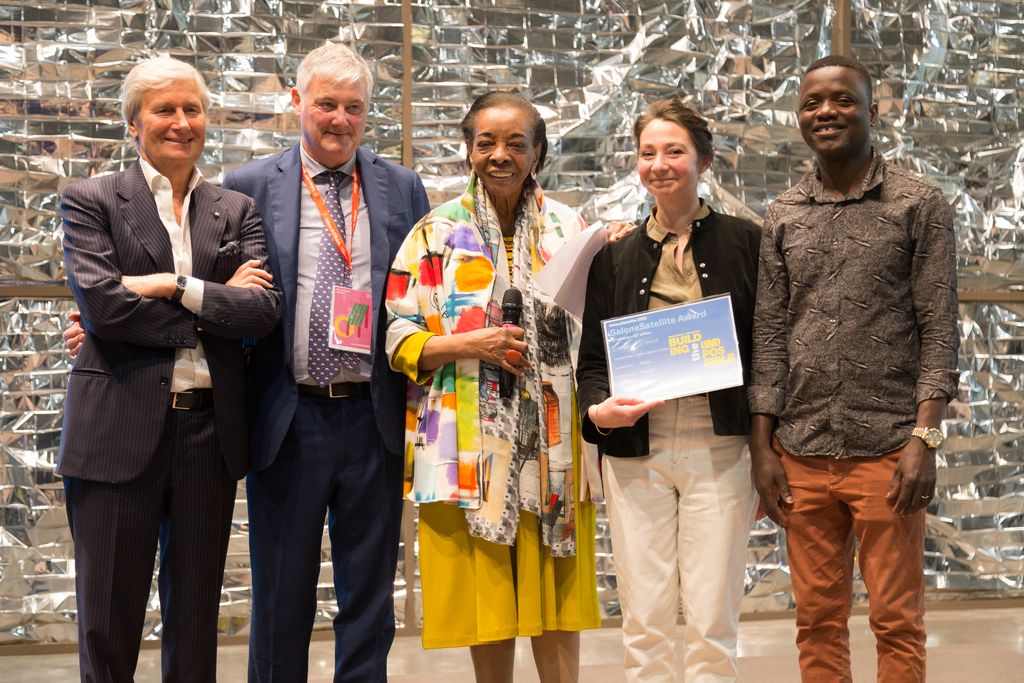 Winner of a SaloneSatellite Award for their textile work, the duo formed by Georges Ahokpe and Estelle Chatelin question the very notion of design by bringing together artisanal heritage and reflection on the purpose of the domestic object.
A few weeks after their return from Milan Design Week, an event that earned them a SaloneSatellite Award, a prize awarded each year to innovative, sustainable and interactive projects, the founders of this studio, formed by a textile designer and a weaver, received us in their workshop. Working partners (and couple in the city), Georges Ahokpe and Estelle Chatelin began, in 2017, a poetic reflection questioning the practices of weaving for domestic use both in Benin and in Belgium.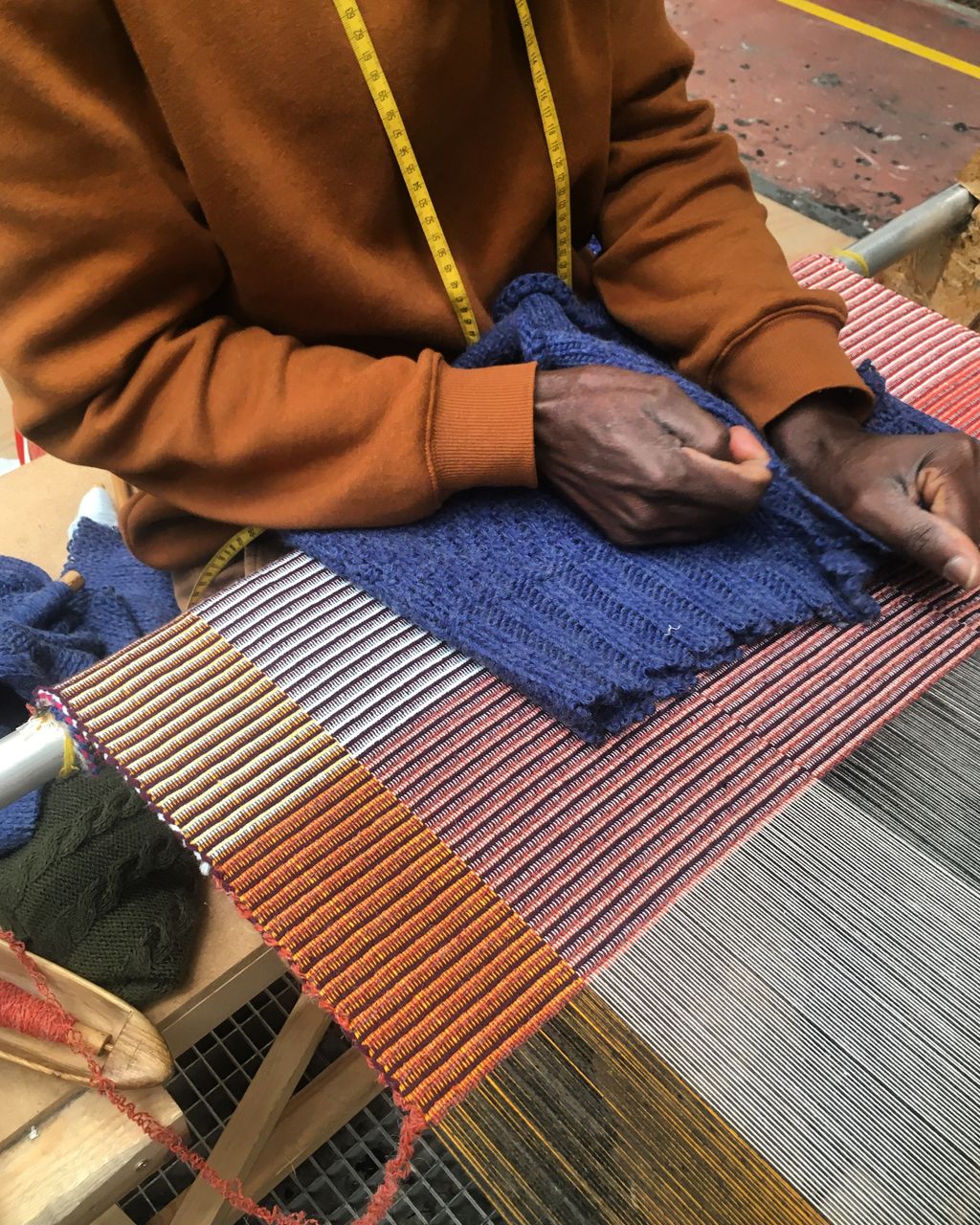 You met in 2014. It was in Benin. Tell us about it.
Estelle Chatelin: "In 2014, at the end of my Bachelors degree in Textile Design at La Cambre, I had the chance to go to Benin as part of a cooperation project. It was there that I met Georges and discovered hand weaving as it is practiced there. It is a tradition that has been part of the local culture since the 18th century. At the end of this first experience, I took a year off to meet other actors of the sector in the country. Georges and I then decided to collaborate on my final year project: a co-creation project centred on the design of objects that are sometimes inspired by Western customs, sometimes inspired by Beninese traditions.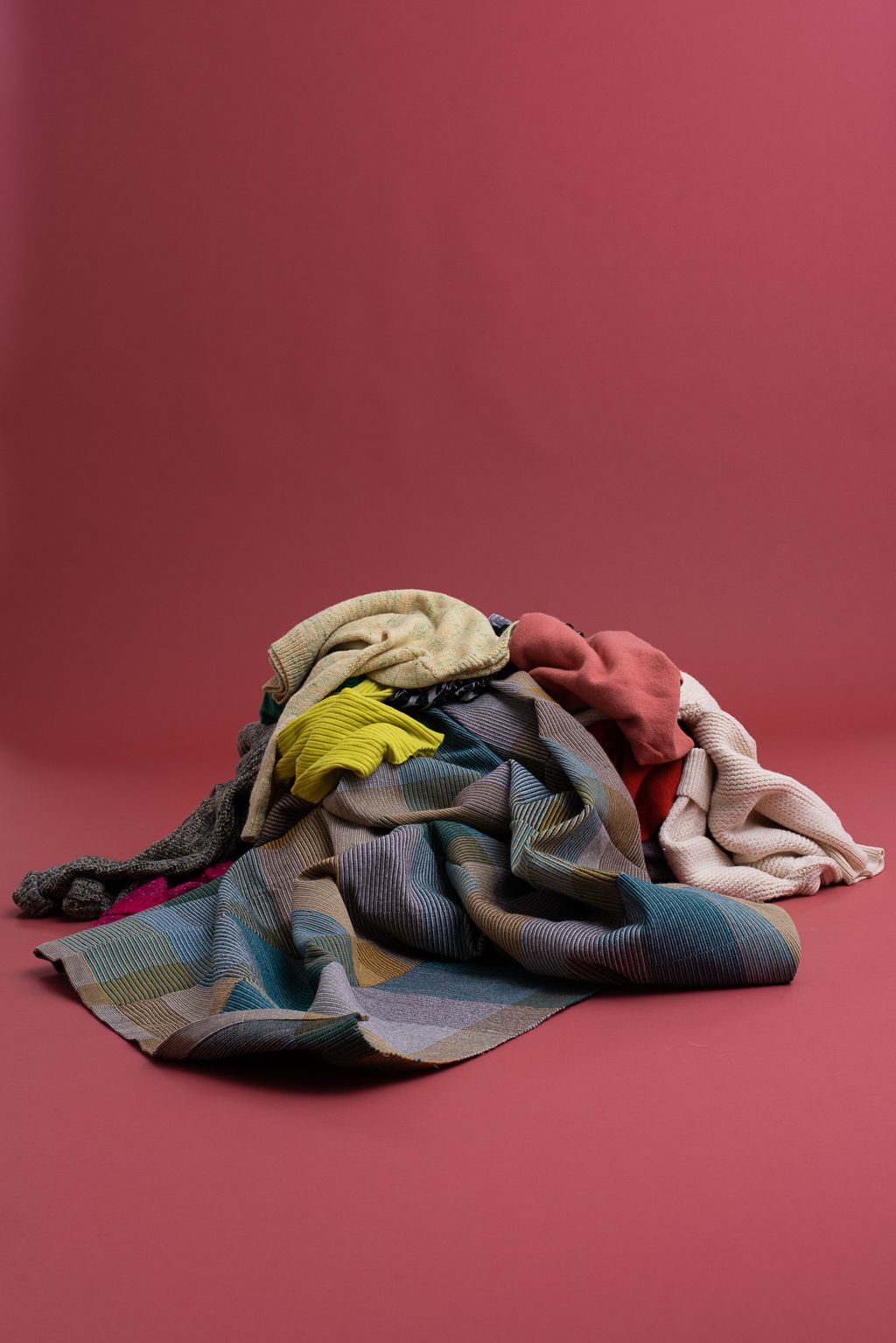 You also started from an observation: in Africa, for economic reasons, weaving objects, although strongly rooted in local craftsmanship, are in strong competition with other, less expensive – and less qualitative – objects produced elsewhere in the world.
Our work consists of linking the territories. For each object we design, we think about its inspiration, the raw material, the production process and finally its destination. In the case of the hammock that we presented at the SaloneSatellite, the idea was to create an object intended to be sold here, but made in Benin with a European material using yarn from old jumpers that we had unknitted. Again, the idea was to think about how we can revalue clothes sold at low prices on the markets in Africa. And, when it comes to materials sourced in Belgium, we work with a local sorting centre.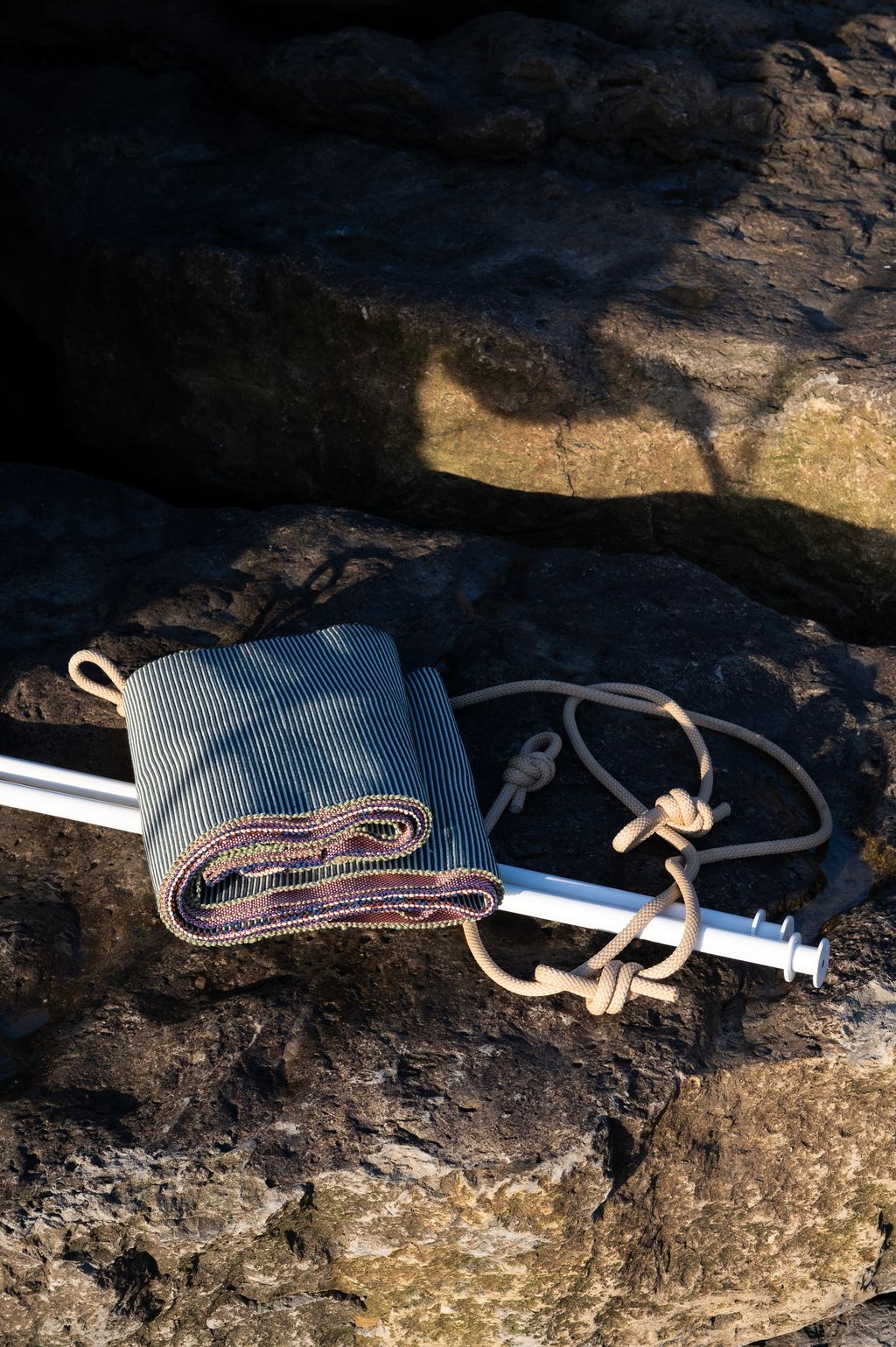 What's special about your circular approach is that it's part of both your cultures.
For the outdoor version of the hammock, we used polypropylene yarns purchased from a company that centralises the end-of-stock materials of carpet/flooring manufacturers in the Kortrijk region. The weaving was done in Belgium. In the same vein, we made a ceremonial loincloth for a Beninese dignitary based on a jacquard weave. The material and the manufacturing process are Belgian, but the origin and purpose of the product is African. In this particular case, the symbolism is all the stronger because the design is a graphic interpretation of a traditional bas-relief, the saying of a king and his symbols. This quest for voluntary and assumed appropriation is at the heart of our approach. We believe that a plural vision can allow us to value techniques and know-how. Just like our reflection on our frenetic consumption patterns.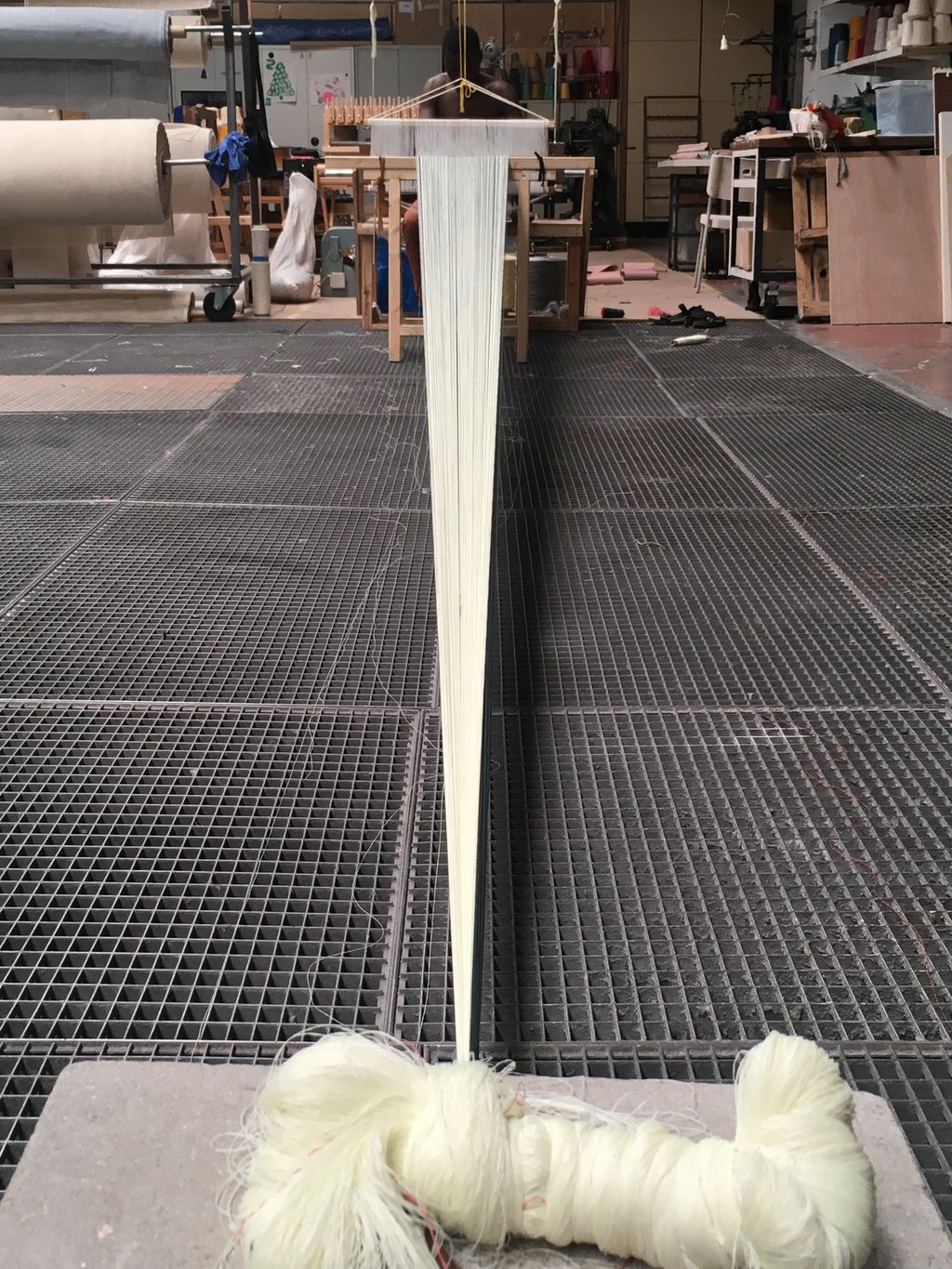 Do you consider yourselves designers or makers?
Georges is not trained as a designer, but he works with me on each new concept. Halfway between craft and design, our practice questions the very essence of the designer's profession, as well as the way in which we could edit an essentially craft work. It takes an average of 5 or 6 days of weaving to make the strips of fabric that go into the composition of a hammock. Not to mention the elaboration phase of the object, as well as the assembly, which is also done manually. At the moment, we make custom-made products for private clients, but we would like to work with interior designers in the future. This type of partnership would allow us to become more involved in the product development process and enrich our practice and our overall thinking on the preservation of know-how and its place in living spaces.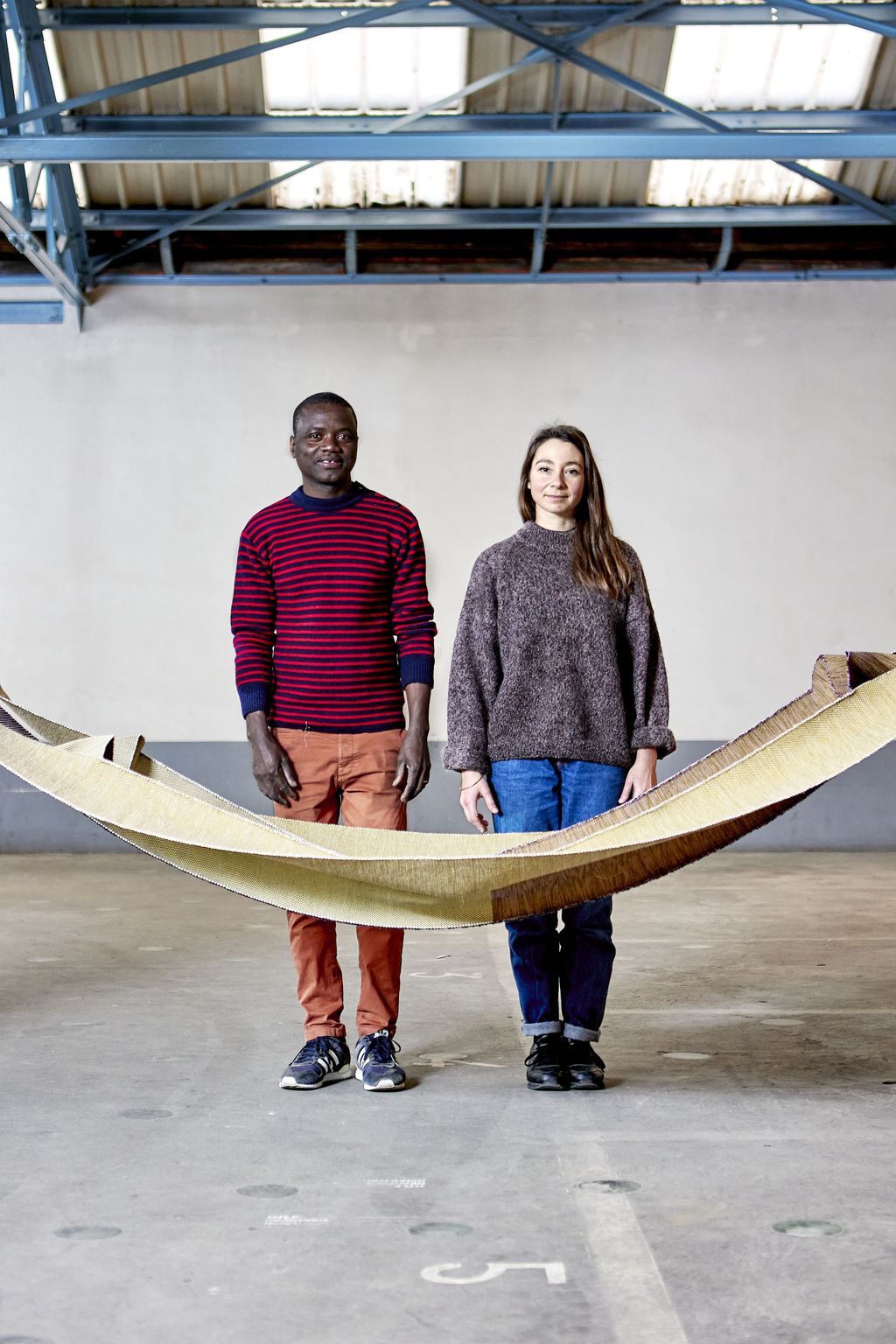 What do you remember about your experience in Milan?
For Georges, it was obviously the discovery of an unknown universe: that of an international trade fair. The Salone offered us a unique opportunity to meet international buyers and the press. Our participation in the Belgium is Design stand – and our prize – gave us a nice visibility, including a mention in Elle Déco China (laughs).