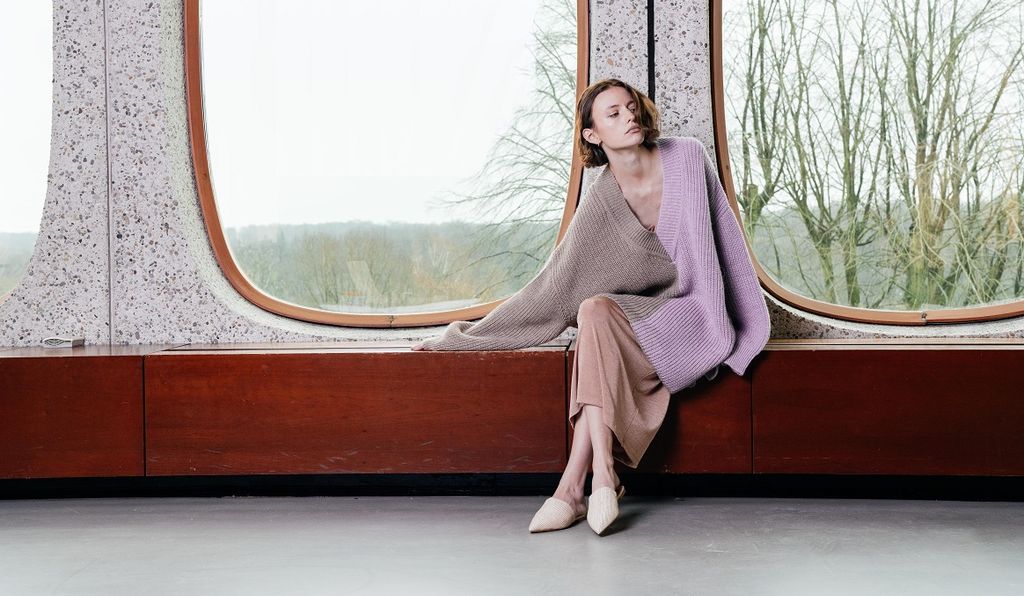 Brussels-born Valentine Witmeur made herself known as a influencer before turning to knit sweater design. Produced in Portugal and distributed through a network of high-end stores, the creations of this graduate with a Bachelor's in communication, followed by a Master's in luxury goods management, are part of an on-trend yet carefully considered approach to fashion.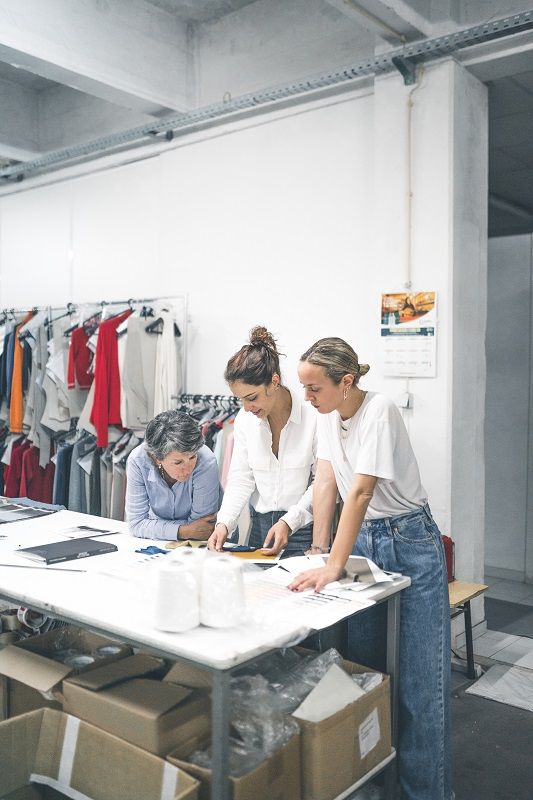 For a while, you were a blogger. Is that something you take pride in?
It was a digression, an activity I developed on the side of my other projects, and one that I no longer wish to expand. Let's just say it allowed me, when I first launched my brand, to build a community of women who followed me and appreciated my style. Since my launch, my contacts have also allowed me to receive press support.
Did this experience make you obsessed with Instagram?
I've always been attracted by images; I'm strongly affected by the aesthetics of a picture.  So I place great importance on my brand's image, both in terms of campaigns and social media. But I am aware that things are changing. A campaign, no matter how expensive to run, can sometimes have less impact than photos of clients, celebrities or influencers who wear our sweaters. Those Instagram shots contribute to the brand's influence and directly impact our sales.
After your Bachelor's in communication, you studied fashion management in Milan. In fashion, is it better to be strong in marketing, rather than in design?
I would say that you have … to be strong in everything. Hence the difficulty of carrying out this type of project in the long term. For several years, Arthur Spaey, my partner, has watched over the financial, administrative and logistical aspects of the brand. Without him, the Valentine Witmeur Lab brand would not be what it is today.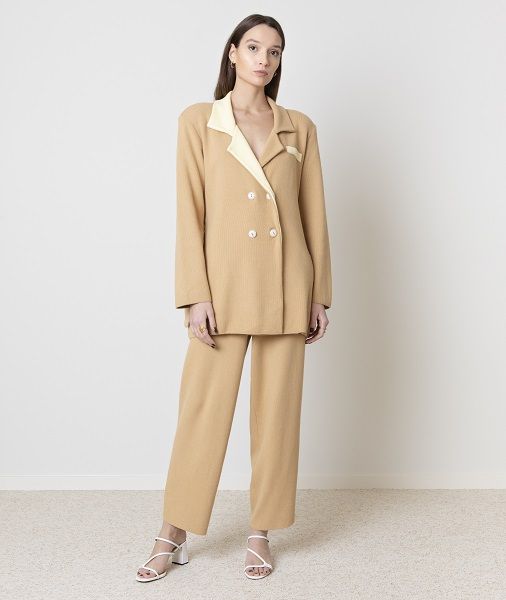 Some might have thought, "Oh, another influencer launching a brand". How have you differentiated yourself?
I grew in an organic way. Initially, I decided to develop a series of six sweaters, because I love knitwear and I wear it a lot all year round. I didn't put pressure on myself. I just wanted to create a beautiful, identifiable product. Taking into account the positive feedback from customers and boutiques, I continued the adventure by developing other models and refining my style. Now we are entering our 12th season, but I believe that the project has been really coherent for three years.
Your brand takes a single product approach. Why this choice?
I never considered the sweater as an obstacle to my creativity. It is a product that allows a lot of variations, both in shapes and colours. For the summer of 2021, I have developed a collection based on new stitches and yarns. This summer, while staying true to our DNA, I am launching a line that I have called Fluid. It consists of a few satin pieces, including dresses, that are easy to wear under a sweater. The idea was not to dilute myself, but to develop new products that remain in line with our core: knitwear.
A few seasons ago, you developed a menswear line that you have since stopped.Was this also to not dilute your efforts?
I don't rule out relaunching a menswear collection again someday. It's just that it's really a separate niche. Male customers, for example, find it much more difficult to understand the idea of 'one size fits all'.
Let's forget about "green washing" and be honest: what is an ethical sweater? Are yours?
We work with Italian and Portuguese yarns, most of which are labelled. We have also eliminated controversial wool from our collections, particularly angora. Right now, we're doing a lot of research around recycled yarn. Our summer 2021 collection will be made of 80% upcycled materials and certified organic cotton. If it were up to me, all our sweaters would be produced in Belgium, but that's impossible. First of all, because the workshops no longer exist. And even if we did find one, the price wouldn't be feasible. From the beginning, we have therefore been collaborating with a family workshop of 10 people in the north of Portugal.
Today, in terms of strategy, what is your positioning?
We are clearly targeting international markets. Of the 20 or so stores that distribute our brand, about half are in Belgium. Now we want to focus on boutiques that embody the spirit of the label. And above all, we don't want saturate our own market. I am very proud that the brand is available at Webster in Miami, L.A. and New York, a fantastic international showcase.We will be thrilled if others follow.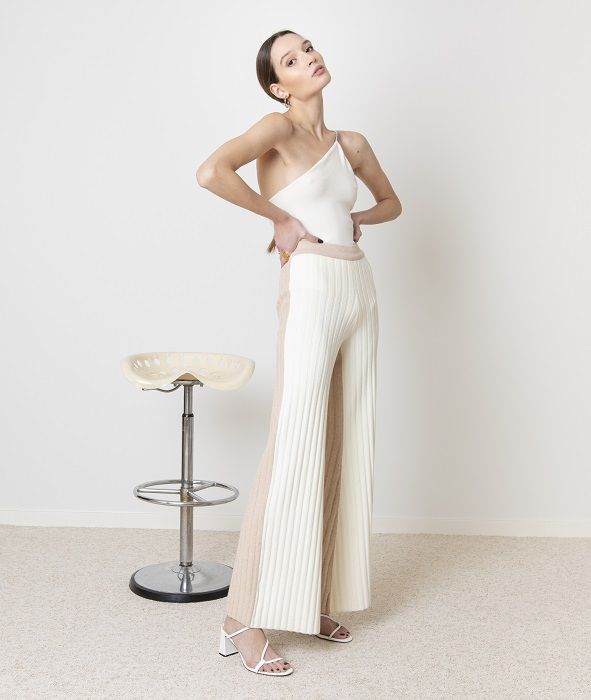 This year, you received a grant from Wallonie-Bruxelles Design Mode (WBDM) to develop your project. Why are grants like these essential?
First of all, they enable us to structure our project. When we applied for this grant, we were required to clearly position the brand and refine our strategy. When we got the grant, it was a fantastic encouragement, a confirmation of our legitimacy. This help from WBDM will allow us, among other things, to collaborate with a press agency in Germany, a market where our e-shop is seeing very good results, and which we think we should explore further.
Do you feel Belgian in your approach to fashion?
I am very close to the designers of other emerging brands such as 42/54, Stéphanie Anspach, Virginie Morobé, Émilie Duchene, etc. As entrepreneurs, we are all in the same boat. In terms of contacts, we help each other a lot. I think it is due, among other things, to the profile of Belgium: a small country full of talents in fields as different as fashion, architecture, design and gastronomy. Today, more than ever, the world is watching us. And with very good reason.