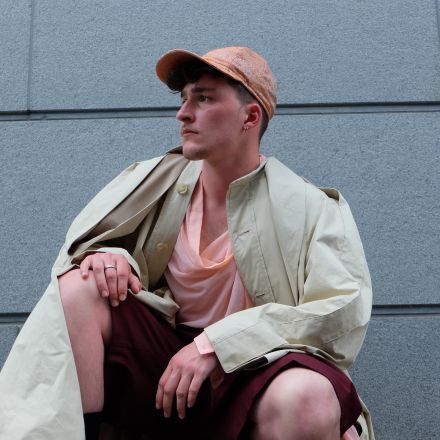 FOCUS ON CRAFTSMANSHIP
Born in Binche, the city of lace, Amandine Blanchart has always been immersed in the universe of creation. It was her grandmother, a lace maker, who passed on her love of craftsmanship and introduced her to embroidery and then to sewing. Silk, pearls, textile manipulation … Amandine Blanchart is a goldsmith of ornamentation. Aware of the importance of safeguarding these forgotten professions, but also of giving them a current dimension, the winner of the 2021 WBDM Press Prize invited them to her "Tetropha" collection.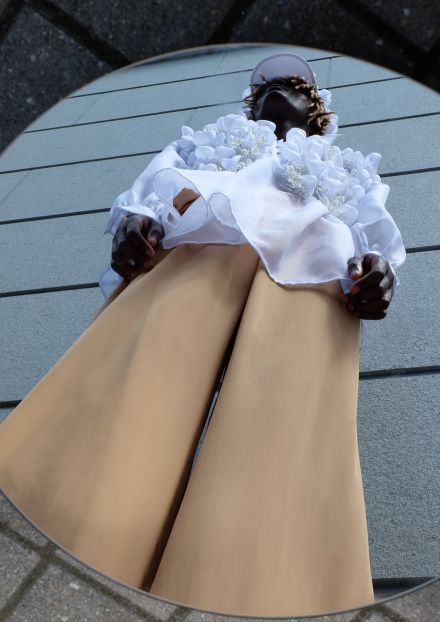 'TETROPHA', THE MAN ABOVE ALL
Available in a chromatic palette inspired by the human body, his collection is a tribute to craftsmanship, but also to the painter and sculptor Victor Brauner. The artist's representations of dismembered human bodies have accompanied her in her research around male clothing. The primary meaning of the word "conglomerate" (a central concept in Brauner's work) notably guided her towards shibori. This technique mixed with a skilful game of beading gave birth to a men's shirt, the flagship piece of the collection.
MODERNITY IN TRADITION
It was her internship in the studio of jewelry designer Louise Kopij that gave Amandine Blanchart the desire to explore the world of Shibori, a technique that can be found in her own collection. A collection under the sign of beautiful materials, including silk. Certain details, such as the flower encrusted in the sleeve of a down jacket, reflect the artistic ambitions of the young designer who intends to join, from next September, the School of Embroidery of Art in Lunéville (France) to be able, as she wishes, to contribute to the dissemination of artistic craftsmanship through her creations.